---
The Original Stocking Shop
Did you know that What Katie Did started as purely a Stocking Shop way back in 1999, specialising in Seamed and Fully Fashioned Stockings of the 1950s. We traded from a tiny little shop in Camden, London as well as from a home made website. We have expanded into vintage reproduction lingerie and fashion since then, but stockings still remain very close to our hearts and we have developed a fabulous range of retro Nylons.
What makes us special is the fact that our stockings and suspender belts are designed to be worn outside the boudoir, and the team at What Katie Did wear our nylons on a daily basis: something that came as a bit of a surprise to one of the factories we work with!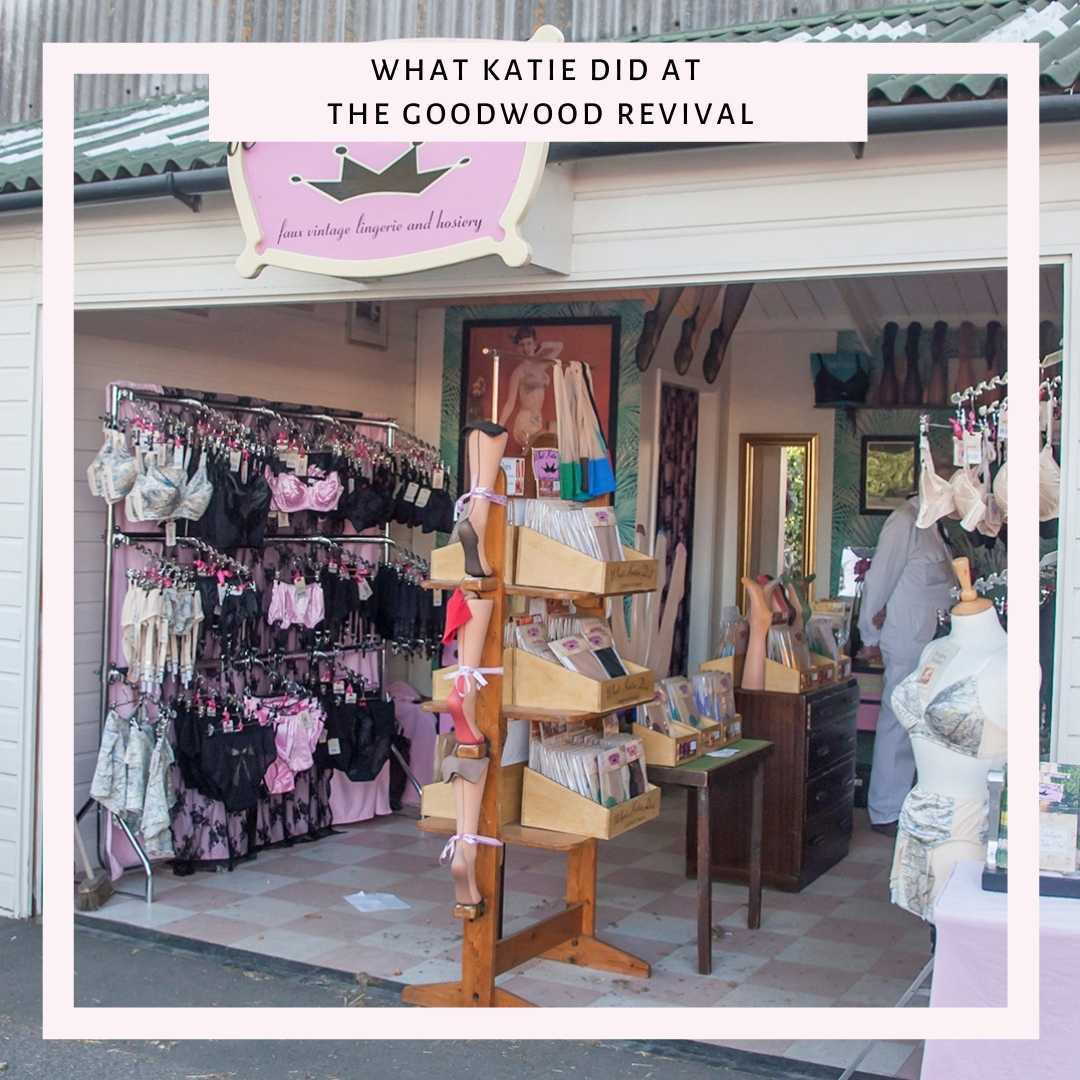 ---
Our most popular Stockings are our Glamour Seams which are exclusive to What Katie Did and the boutiques we supply around the world. They're made to our own specifications in Italy, the home of quality hosiery manufacturing. One of the things we disliked about modern seamed stockings was that the welt (stocking top) tended to be far narrower than stocking welts of the 1950s and would often dig into thighs making stockings uncomfortable to wear. After a lot of persuasion we finally managed to get our factory to make our seamed stockings with a wide, stretchy welt which makes them nice and comfortable to wear. A couple of other brands have now followed our lead and we're pleased to have done our stocking wearing a little easier for everyone!
We have divided our Glamour Seamed Stockings into two categories: Neutral and Colours. In our neutral ranges you find skin tone and black stockings which are perfect for an authentic 1940s or 1950s look. We currently make our Glamour Seamed Stockings in three different skin tones: Champagne, Nutmeg and Coffee. As our nylons are made from a sheer, translucent, 15 denier these three colours cover all but the darkest leg.
Our Colourful range of Glamour Seamed Stockings feature a skin tone leg in either light Champagne or darker Nutmeg with a vibrant contrast colour heel, seam and welt.
---
The trick to wearing stockings comfortably is a well fitting suspender belt, preferably one with 6 straps and adjustable metal clips: you'll never look back! If you want to get the 1950s seamed stocking look without a suspender belt then we also offer a range of Seamed Tights. Our range of seamed tights is smaller than our seamed stocking collection as we really don't sell very many and the ones we do are mostly for visitors of historical events such as the Goodwood Revival plus film and TV productions.
---
Fully Fashioned Stockings

Why Do Stockings Have Seams?
Before 1949 all stockings were knitted on flat knit machines. This basically means they were knitted flat and the seam held the stocking together to make a tube: it simply wasn't possible to have a stocking without a seam! Although the first circular knit stocking machine went into production in 1949, it wasn't until the 1960s that seamfree stockings became fashionable.
The Seamed Stockings of the mid 20th century were known as Fully Fashioned as they were 'fashioned' to fit the leg. Before the days of elastane which allows stockings to stretch to fit, stockings were generally made from non stretch nylon (although an unglamorous twisted yarn version known as Crepe was available) and the Fully Fashioned Reading knitting machines would be programmed to reduce the amount of stitches on the back of the thigh and calf to 'fashion' the stocking to fit your leg.
Today Fully Fashioned Stockings are still made on vintage Reading Machines with the seam sewn by hand on a small, industrial, overlocker. With a top speed of 30 pairs per hour, and only a handful of machines still running around the world, demand often outstrips supply. Ours are made in one of just two remaining factories in the UK.
---
We bring things up to date with our small collection of RHT (re enforced heel and toe) Stockings which are made from the same super sheer 15 denier nylon as our Fully Fashioned Stockings, and in the same UK factory. They're ideal for if you love the feel of sheer nylon but don't want your seams to grab all the attention!
---
Find out everything you need to know about stockings including how to put them on, and how to keep your seams straight.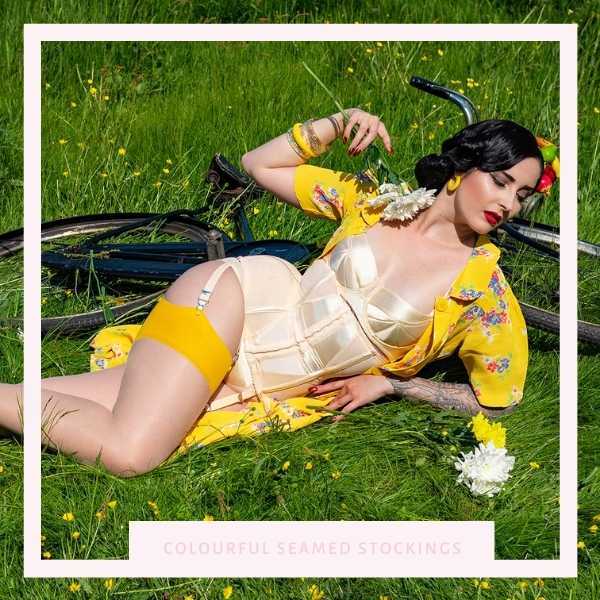 Looking for a little colour? Shop our collection of colourful Contrast Seamed Stockings and find out if they are period correct.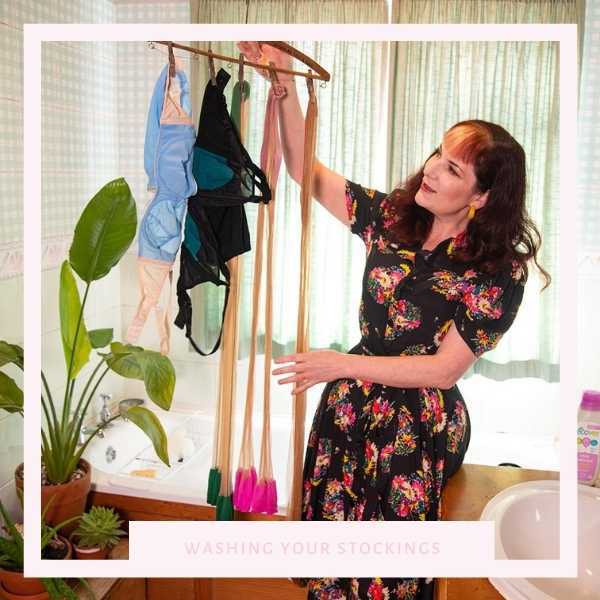 How to care for your stockings.