It's our aim to get you into perfectly fitting lingerie first time around. It would make life a lot easier wouldn't it?
Luckily most of our lingerie is made from stretchy powermesh which makes it easy to fit. If you are looking at an item which cinches your waist (like our Waist Cinchers or Waspies) you will need to grab a tape measure and check your waist measurement as it needs to fit perfectly to cinch your waist, but with everything else fit is pretty easy.
If, after reading the notes below, you're still unsure, grab a tape measure and talk to us on 'live chat' so we can quickly resolve any queries before you place your order. Don't worry if you don't have a tape measure, simply email Robyn your name and address and she'll pop one in the post for you (robyn@whatkatiedid.com).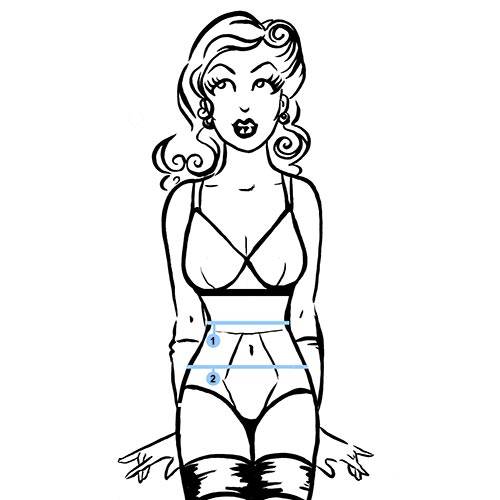 ---
Dress Size
Bust
Waist
Hip
Most of our lingerie is made from stretch fabrics so the measurements here are a rough guideline. Our garments will fit a couple of inches either side of the measurements below, especially with larger sizes which do have a lot more stretch.
If you are used to wearing other reproduction vintage brands then our sizing should be inline with them. If you normally wear high street brands you might need to go up one size in our shapewear items which are designed to be worn very tightly.
---
Corselette and Merry Widow Checklist
Our lingerie is sized either by bra or dress size.
Shapewear is designed to smooth and shape the torso, concentrating on the waist and hips. It's important to get these measurements correct when determining your dress size.
To determine your waist size (1) measure the narrowest part of your torso firmly. Your natural waist might be a lot higher than you imagine and should be several inches smaller than your jean size. Measure your hips (2) at the widest point.
Our Merry Widow and Corselette are sized using bra sizes. As both garments cover the body, the body size also needs to be taken into account. The band sizes of these garments roughly fit:
Band size 32 = dress size 10, 34 = dress size 12, 36 = dress size 14 and 38 = dress size 16 (of course, these are What Katie Did dress sizes which might be a size smaller than what you're used to, see our fitting room page for the measurements of our dress sizes)
If you wear, for example, a 32D bra but are a dress size 14 you will need to adjust your corselette/Merry Widow size so it fits correctly on the body by selecting a 36B (if you go up a band size you need to go down a cup size).
---
Waspies and Waist Cinchers
Designed to comfortably cinch your waist. Ensure that the reinforced shaping bands sit on the narrowest point of your waist for maximum sculpting.
Always choose the size closest to your waist measurement. It is possible to go down a size in our waist cinchers and waspies especially if you're used to wearing vintage style shapewear.
Waist Cinchers are great under full skirted 1950s style dresses with nipped in waists.
---
Knickers and Suspender Belts
Our knickers contain powermesh and are stretchy so the waist measurement isn't quite as critical as it is on shapewear (with the exception of our CC09 French Knickers). If you're in between sizes go for the size which matches your hip measurement. In general if you are between sizes always go for the larger size in knickers.
All of our supender belts contain powermesh so they will stretch to fit. They need to sit firmly on the waist so if you are between sizes always to for the the smaller size.
---
You need to take in to account both your waist and hip measurements when selecting a girdle. If you are wearing a girdle that finishes on your waist then it's best to choose the size closest to your waist measurement to avoid a muffin top. If you do have a large waist in comparision to your hips it might be better to go for a longline underbust girdle which will give you a smooth line from underbust to derriere.
Our underbust girdles contain spiral steel boning to ensure they don't roll down.
Girdles are designed to flatten your tummy and smooth your hips and derriere. Always step into your girdle.
Ideal under tight fitting pencil skirts.
---
A-D Cup?
You should select your usual bra size when shopping with What Katie Did. Our sizes are generally in line with brands including Agent Provocateur, Triumph and Gossard.
DD+ Cup?
Please note that we are not a modern full cup brand which specialises in DD+ cups which means that all of our bras are sized traditionally: your underbust measurement and band size should not be the same. Our band sizes are designed to fit an underbust measurement 3-4 inches smaller so, for example, a size 32 is designed to fit an underbust 28-29".
We have more information about Bullet Bra fit and sizing on our All About Bullet Bras page.
If you have purchased a bra (either from us, or elsewhere) and the size isn't quite right, it's easy to work out what's gone wrong and how to find the right size for you. Bra cups are 'cross graded' which means the same cup is used for several different sizes. If your band is too tight, but the cup fits perfectly, then you need to go up a band size and down a cup size (this will make the band 2" longer, but the cup the same as the first size).
For example:
28F has the same cup as a 30E, 32DD, 34D, 36C and 38B
28FF has the same cup as a 30F, 32E, 34DD, 36D and 38C
28G has the same cup as a 30FF, 32F, 34E, 36DD and 38D