Madonna's Constant Love for Vintage Lingerie
When it comes to Madonna and style, the one thing that stays constant is her love of lingerie. Ultimately, Madonna took lingerie, vintage inspired lingerie in particular, into the mainstream. Despite being worn by a few people, it was Madonna who has made the biggest impact with vintage lingerie and we love to see that she has continued to embrace the look throughout her career.
Bella Hadid pictured wearing What Katie Did's PaddedBullet Bra, next to Madonna in her Jean Paul Gaultier designed costume, as part of her 1990 Blond Ambition Tour: from Harper's Bazaar.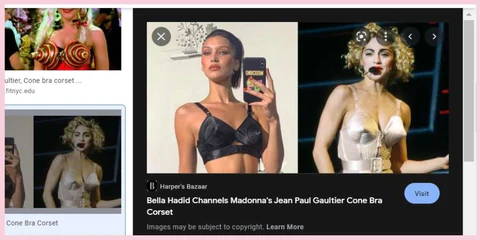 ---
---
Who can forget the lace basque she wore in her 'Like a Virgin' video and on the cover of the album? How about the conical bullet bra costumes designed by Jean Paul Gaultier for her Blond Ambition tour (1990). Or the corsets she's been wearing since Confessions on a Dancefloor (2005)?  
More recently, Madonna has become a little obsessed with 1950s style bustiers. In particular, a brand called Lady Marlene. This is of great interest to us at What Katie Did, as we started out selling Lady Marlene pieces in the early 2000s! Lady Marlene was a US lingerie brand which made the same pieces for decades. In the advent seen below, possibly dated in 1953, was the exact garment we were seeing in 2003!  
Alas, Lady Marlene ceased production in the mid 2000s. In spite of the large audience, the company, L. Brands, decided it wasn't worth investing in. Although made for decades, the designs and sizing were very limiting for their audience. It became difficult for the brand to stay relevant and to reach outside the vintage fashion scene, despite the few new designs here and there.
You Don't Need to go Back to the 1950s to get Madonna's Look!

Genuine 1950s vintage lingerie is now very hard to find, often expensive and not in any condition to be worn. As a matter of fact, with a quick search for 'Lady Marlene Lingerie' on eBay or Etsy, you'll find pieces that were designed in the 1950s, but could have been manufactured less than 20 years ago.
In fact, Lady Marlene's most famous pieces are the 'bra-s-lette' as worn by Madonna in her Instagram photos. This is what, at What Katie Did, we'd call a Merry Widow Basque. The original 1950s version with an overwire and hook and eye at the back, is the style worn by Madonna and featured in the 1953 advert pictured.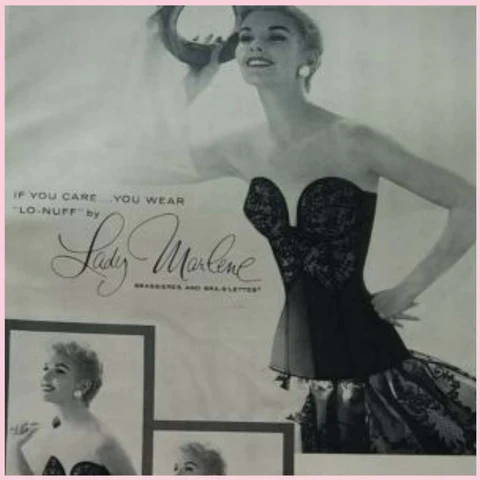 By the 1960s, this piece had evolved into an underwired, strapless basque. With four detachable suspenders/garters and has a hook and eye front fastening covered by a zip. The cups have a beige lining covered with black lace, so the nudity is an illusion and it's safe to wear without flashing your nipples! The same applies to the Lady Marlene Bustiers, which have fully lined cups.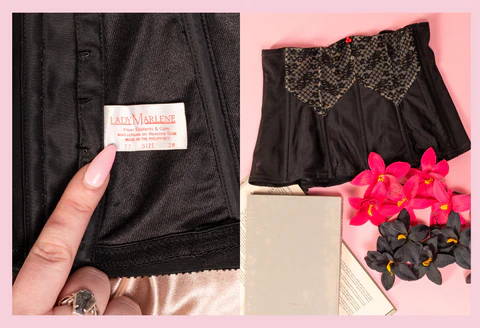 Keep in mind, that the Lady Marlene bra-s-lette runs a little large in body and cup. This isn't a bad thing as the cup only goes up to a D! But 'shapewear' wasn't in the forefront of minds when creating a piece like this, they just focused on fashion. And because vintage shapewear tends to cut smaller than more modern day pieces, the Waist Cincher by Lady Marlene will fit better when sized down. This will give your waist the cinch look you've been after! In this case, if you're after a shaping piece, have a look at our Glamour Shapewear collection!
---
To get Madonna's lingerie look, we recommend wearing our Glamour Merry Widow Basque as a lingerie as outerwear top. You can wear our Merry Widow without garters and with or without bra straps. And we'd love to see you pair it with a circle skirt or even with jeans, as Madonna is fond of doing!
Needless to say, no fan of the material girl could ignore the bullet or cone bra. The black satin version in our collection is a perfect piece to recreating Madonna's infamous look. Lucky for us, her costume department purchased this piece for her Rebel Heart Tour! Alas, although we've sent numerous pieces to Madonna over the years we've only ever seen her once in our Maitress Bullet Brawhile out on the town. Our fingers remain crossed!