Review - Christian Dior: Designer of Dreams
at The V&A Museum, London: 2 February - 14 July 2019
Christian Dior's Bar Suit (above) from his first collection in 1947 is arguably the most iconic piece the house of Dior has ever created. As you enter the V&A Museum's Christian Dior: Designer of Dreams exhibition it's the first piece you see, immaculate in its display case with it's incredible hourglass figure and tiny 19" waist.
This latest exhibition at the London museum is based on the Dior: Couturier du Reve exhibition held in Paris last year, updated with 60 new pieces and tailored to focus on Dior's love affair with all things English. The exhibition opens with a room dedicated to designs Dior created for his English clientele, including Princess Margaret's 21st birthday portrait dress here, dating from from 1951, which stands on display next to Cecil Beaton's portrait of her.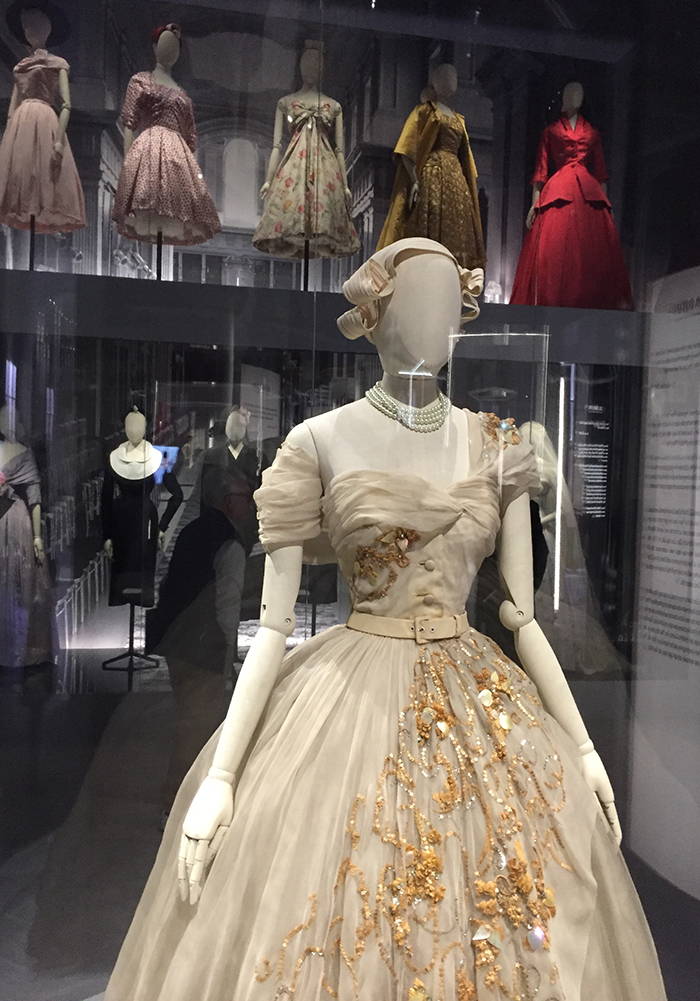 By 1954 Dior was well established in the UK and was ahead of the game in setting up licensing deals. The glove company Dents made gloves under the Dior label while corsetry company Symington made lingerie and corsetry for Dior. Of most interest to us was an original 1957 Dior Corselette, a black powermesh and lace number which because the mainstay underpinnings of the discerning fashionable woman.
Each room of the exhibition is different, and one of the most beautiful is undoubtedly the corridor that displays the mini mannequins – Theatre De La mode – next to a beautifully curated selection of Dior's shoes, jewellery and accessories. In the late 1940s France couldn't afford to send full size mannequins overseas to get orders so instead made minatures: a tradition that continues today.
---
"There is no other country in the world, besides my own, whose way of life
I like so much. I love English traditions, English politeness, English architecture.
I even love English cooking"

Christian Dior
---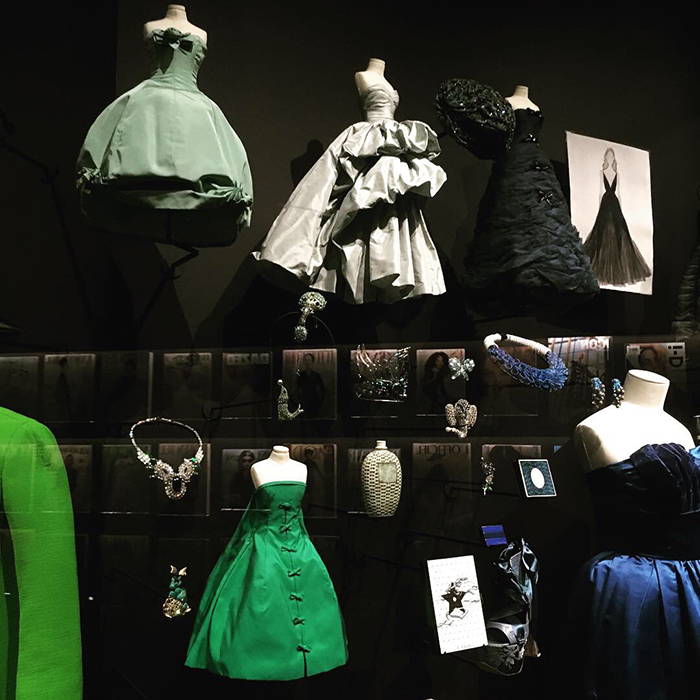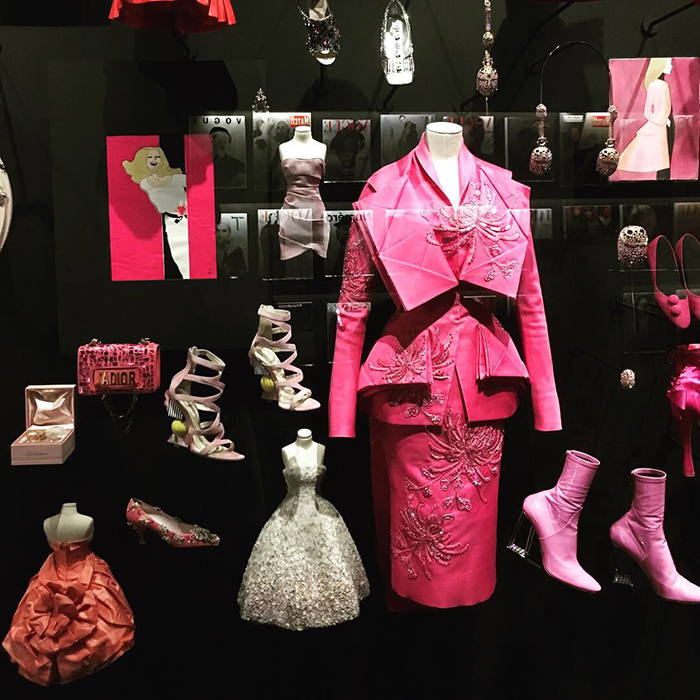 ---
"Christian Dior changed the face of fashion with his New Look, which redefined the female silhouette and reinvigorated the post-War Parisian fashion industry"
  Oriole Cullen, V&A Fashion & Textiles Curator
---
It's amazing to see Dior pieces which have been made over a span of 70 years all displayed together, mixing designers and decades. One of my favourite pieces is this gorgeous ball gown from 1949 which is highly embellished with sequins and crystals and has layers of petal like scallops. It's displayed close to a simpler style which still had an essence of the original in the Ballroom section of the exhibition.
Moving through, the exhibition also showcases beautiful pieces from the house of Dior through to the present day, which are all still strongly influences by Dior's mastery of silhouette. The work of John Galliano, who designed for Dior from 1996-2011 are most notable amongst these for their lavishness,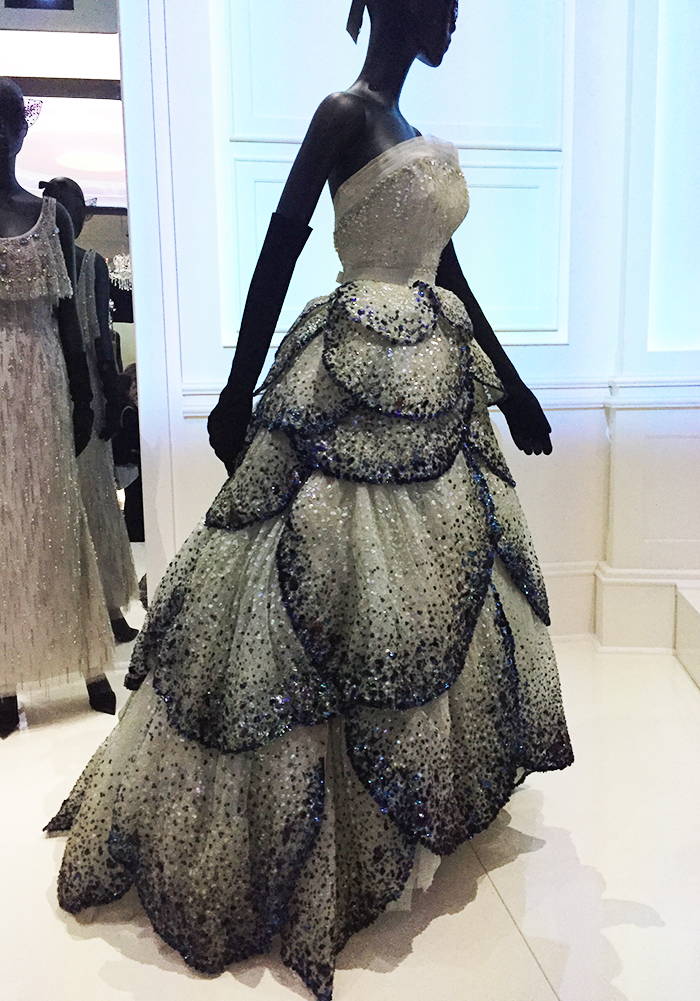 and his impeccable use of shape. This powder blue ensemble complete with corset certainly caught our eye, and I wonder perhaps if the corset itself might have been made by master corsetier Mr Pearl.
It is notable that the petites mains who actually make these intricate pieces are generally left unknown so it is lovely that in amongst the lavish glamour of the exhibition, there is a plain white room filled with toiles devoted to showing some of the work that goes into making new collections.
Christian Dior: Designer of Dreams runs until 14th July 2019 and there is a book to accompany the show simply titled Christian Dior.
---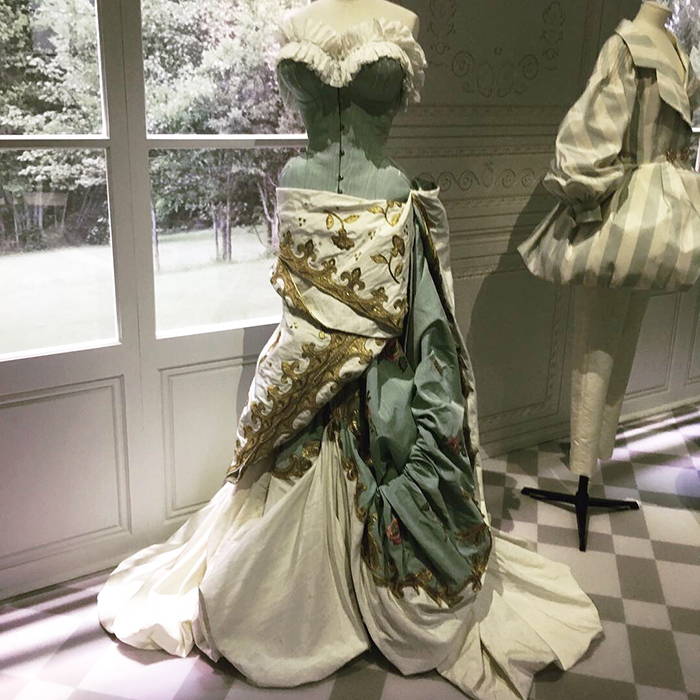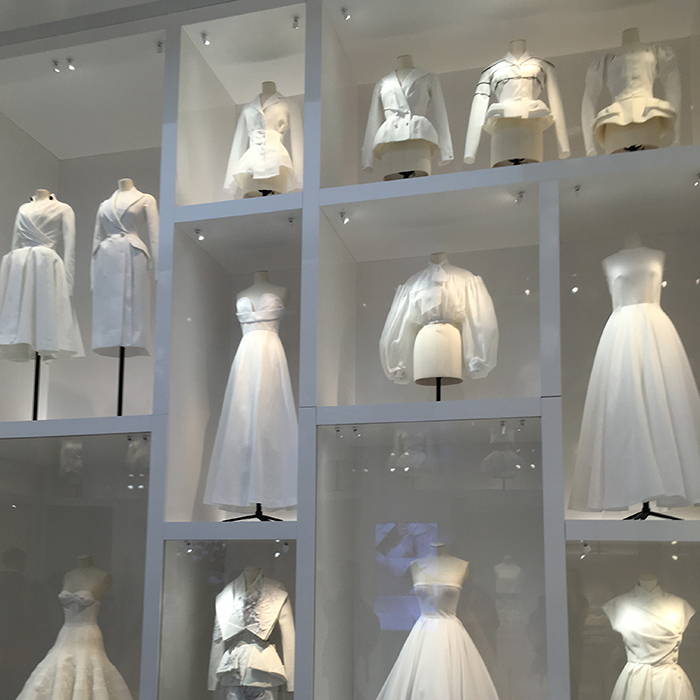 ---
Video Review Christian Dior: Designer of Dreams

---
Christian Dior: Designer of Dreams
Supported by SWAROVSKI
with further support from American Express
The Sainsbury Gallery
2 Feb - 14 July 2019
The V&A Museum, London
vam.ac.uk
#DiorDesignerOfDreams
---