The Sweater Girl look is perhaps the most iconic of the Forties and Fifties. Embraced by the sex bombs of the era, the look relied on bullet bras and tight jerseys to create a prominent pointed bosom emphasising a tiny waistline. While Lana Turner, Jayne Mansfield and Jane Russell were all starlets who popularised this look during the era, the queen of the Sweater Girls was of course Marilyn Monroe! This style is all about creating an extreme silhouette – in her heyday, Playboy reported that Jayne Mansfield had a 40D-21-36 figure, ideal for this shape!
The basis of the Sweater Girl look is, of course, the bullet bra. With its lift and separate action, this bra works to create an authentic silhouette in two ways. Firstly, by maximising your bust measurement and secondly, by creating a tapering V shape to the torso that emphasises the waistline. Made entirely without wires, the secret to our bullet bra's construction lies in the spiral stitches around the cup that provide the support and create that pointed look. Our bullet bras have a full cup, so if you have particularly firm or perky breasts it's worth trying a few different sizes – you may need a size or so up to get the fit right.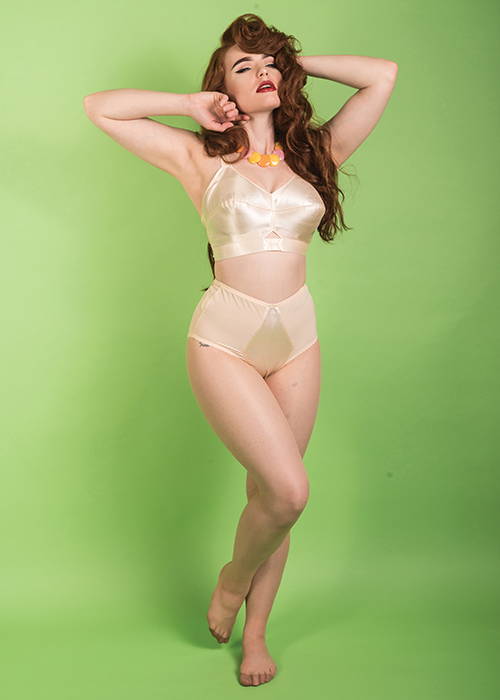 ---
"A sweater girl look is a really easy all-season outfit for when you want to bring
a little vintage glamour to your casual wardrobe." 
"Team your sweater girl jerseys with capri jeans and a high ponytail for
girl-next-door chic. Top off with your favourite Splendette jewellery and away you go!"
---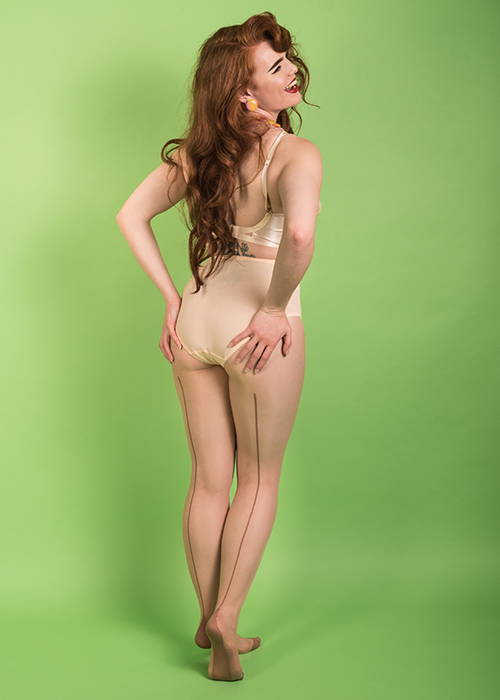 Likewise, if you are a little more petite in the bosom have a look at our Padded Bullet Bra which will help you along a little, or our Cathedral or 1940s Bras for a slightly softer shape.
For this outfit, we've taken inspiration from a photo of Marilyn Monroe in a pair of her trademark capri jeans. Freddies of Pinewood, a repro company, who create beautiful high quality jeans in vintage styles, lent us this gorgeous pair of their Jeanie Pedal Pushers, which are cut to emphasis an hourglass figure. Underneath we've used a pair of our Latte Seamed Tights to add that vintage seam!
Of course, where would a Sweater Girl be without her sweater? We've chosen this pretty lemon-yellow version from Rocket Originals and matching yellow sandals as the perfect combination to put a little sunshine into your wardrobe.
Finish up with chunky Splendette jewellery in bright colours to compliment your outfit!
Modelled by: Miss Deadly Red
---