Vintage Lingerie and Fashion Magazine
Lookbook: Goodwood Revival Style!
Lookbook: Goodwood Revival Style
Heading to England's biggest revival event and wondering what to wear? Have no fear, our Goodwood Revival Guide is here!
In search of something fast and fashionable?
The Goodwood Revival is a three-day festival in the South of England that stages an annual historic race meeting entirely in period dress! Each year, the What Katie Did team set up their pop-up boutique nestled in the middle of the track between the Earls Court Motor Show, the Car Enclosures and the Veuve Cliquot Bar. Our little shop is in just the place for an emergency pair of stockings!
As well as an opportunity to see some amazing vintage cars scorching around the track, the revival is also a chance to get out your vintage glad rags and be seen in style. Although retro attire is worn for the whole weekend, Saturday is traditionally the day to break out your finest outfit, with a hotly contested Best Dressed competition and plenty of photographing opportunities on hand!
Style at the Goodwood Revival encompasses the eras of the 1940s to the early 1960s (in line with the gorgeous cars and planes on display!) so there's lots of scope when picking an outfit.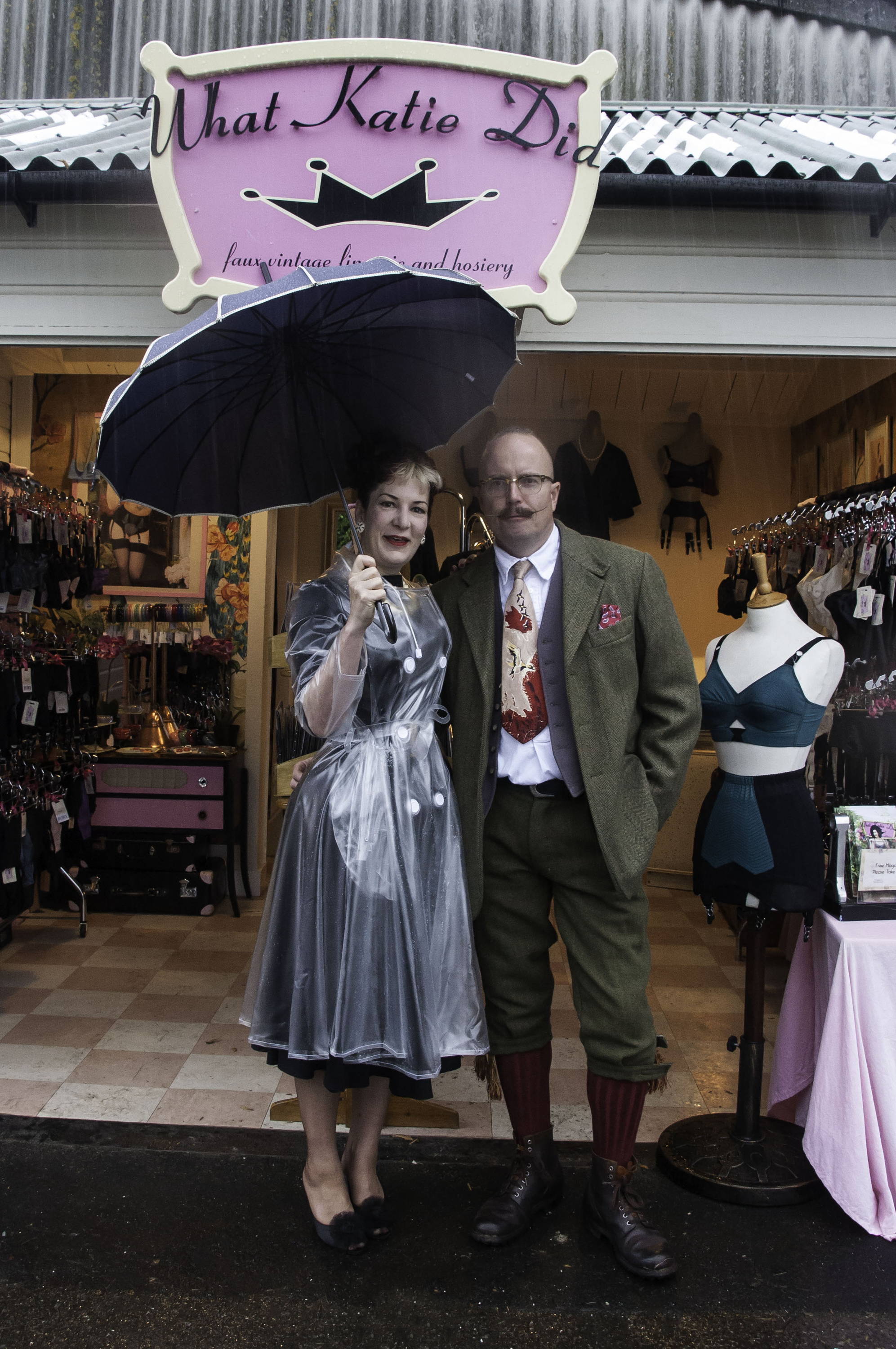 ---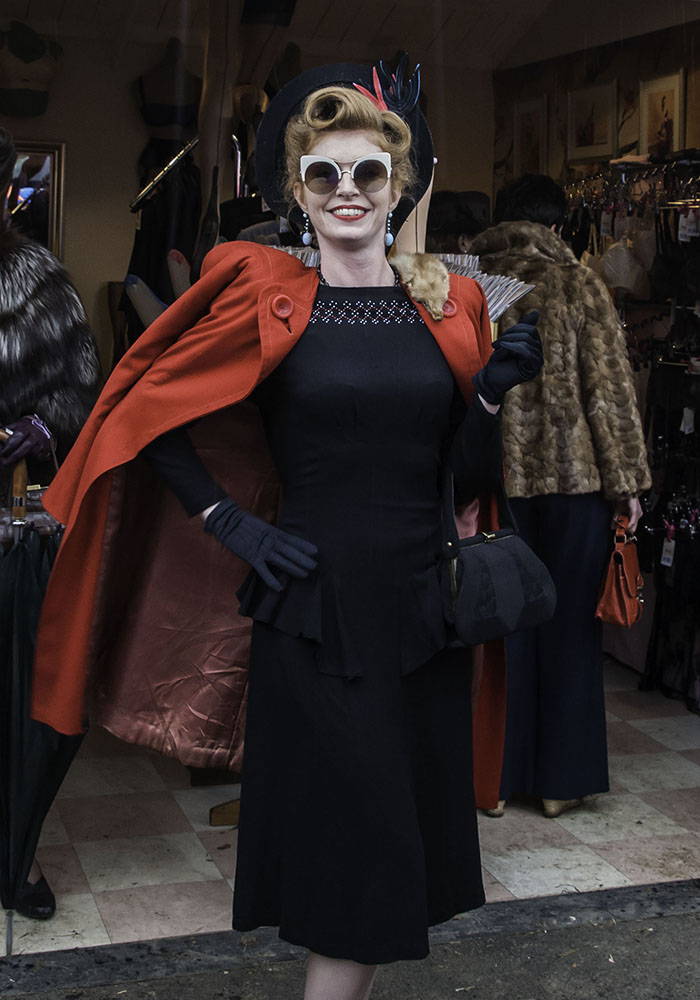 Dressing for the Occasion:
If you're new to vintage style and looking to make an impact at your first Revival, we'd recommend having a look at reproduction companies for inspiration. For dresses, Vivien of Holloway create classic vintage silhouettes, while Lindy Bop make ultra stylish two piece suits that are surprisingly pocket-friendly! (Keep an eye out for their beautiful Maybelle and Marianne designs which our staff will be wearing on our stall!) Elsewhere, Freddies of Pinewood make classic Fifties jeans, and their jumpsuits will certainly be making an appearance during the weekend. For other pieces The Seamstress of Bloomsbury and The House of Foxy (who will be in attendance) design incredible reproduction patterns that all have a story behind them! If you need shoes try Revival Retro (who also stock a selection of stunning clothes and accessories ) or Miss L Fire!
If you're already a vintage aficionado you'll know where to look for beautiful true-vintage outfits! However it always helps to keep an eye out for something truly spectacular - we follow the Ooh La La Vintage page on Facebook for the best pieces, as well as Scarlet Rage Vintage on Instagram, and we're not adverse to a snoop around Malone's Vintage (run by our friend Missy) or Amy's Vintage(owned by last year's Best Dressed Lady Amy Winston-Hart!)
---
The Right Underpinnings:
Of course your outfit is only as good as what's underneath! A Bullet Bra will keep you looking perky all day long, and one of our Waist Cinchers or Waspies will give you that vintage shape you've been looking for. Top off with a pair of our seamed stockings to complete the look - and if you'd rather wear tights for the occasion remember we make our Contrast Black and Latte colourways as tights too, along with a selection of our famous colours!
Always Be Prepared!:
If you've never been to the Revival before it's important to keep in mind the weather! A very British festival, the weather can be very changeable - buckets of rain one minute and blistering sun the next - so it's advisable to take that into account when dressing. Umbrellas are a useful addition to an outfit for both rain and sun, but if you really want to look smart in the English weather head to Elements Rainwear and snap up one of their fabulous see-through rain macs just like Katie wears above (so you can still show off what's underneath!)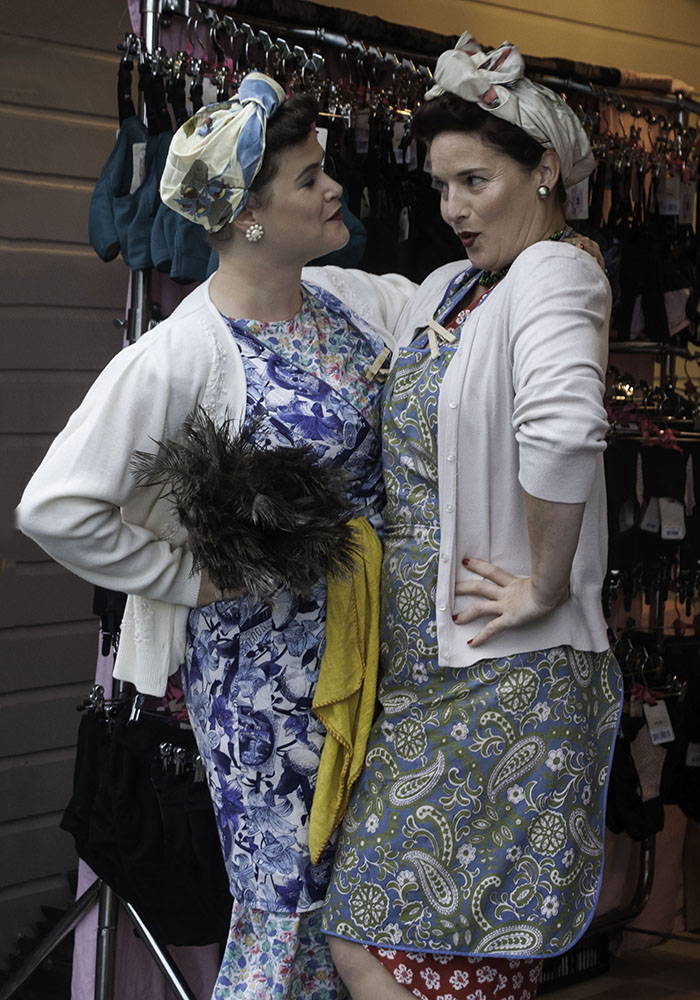 ---
The best looks from The Goodwood Revival 2017!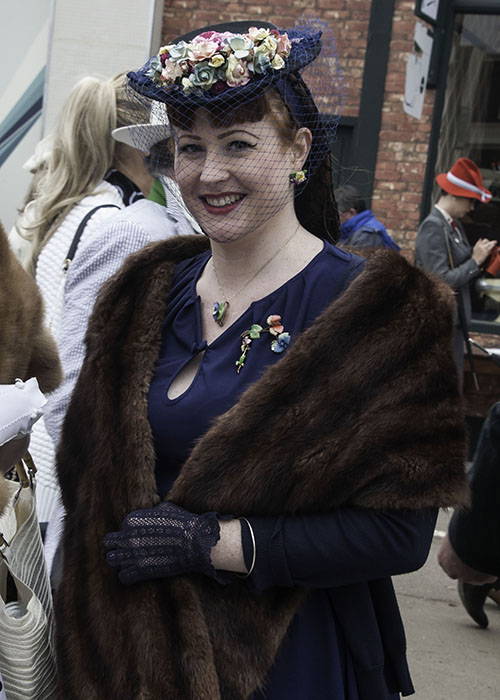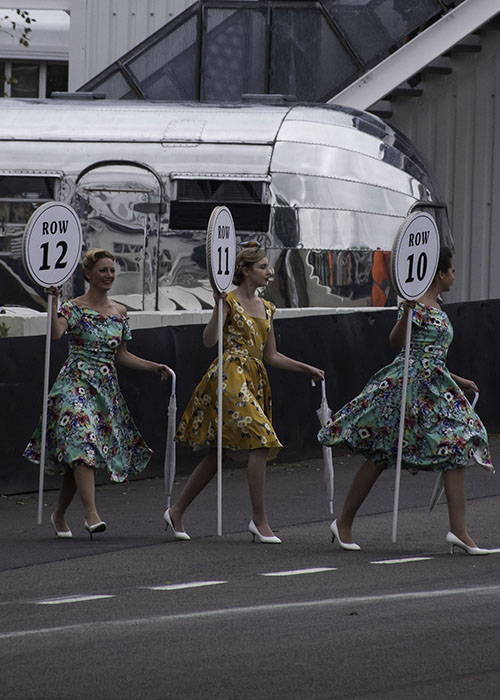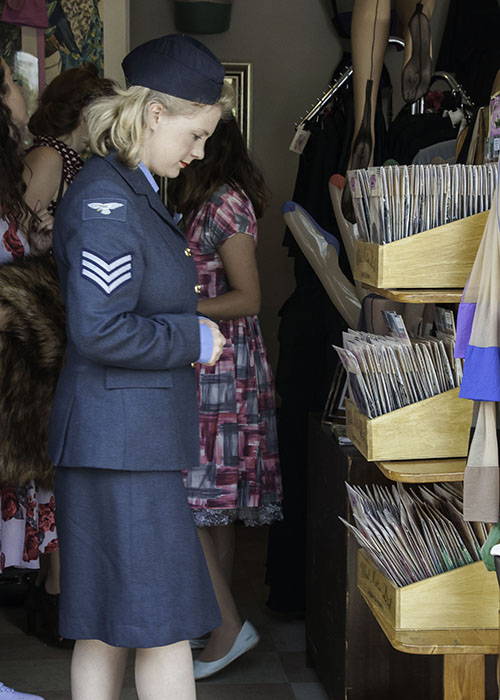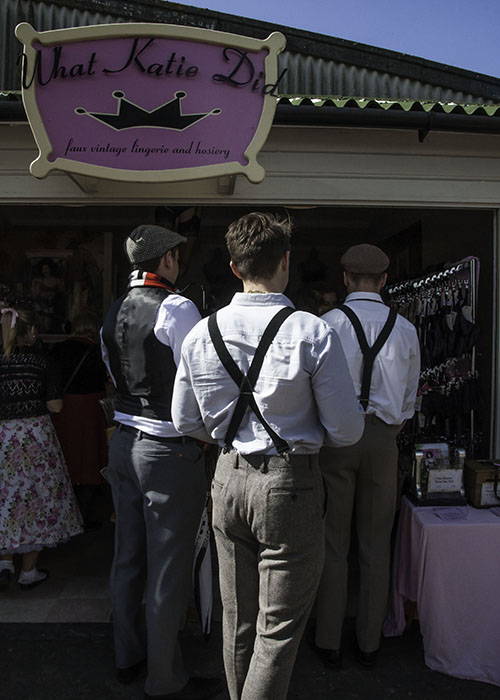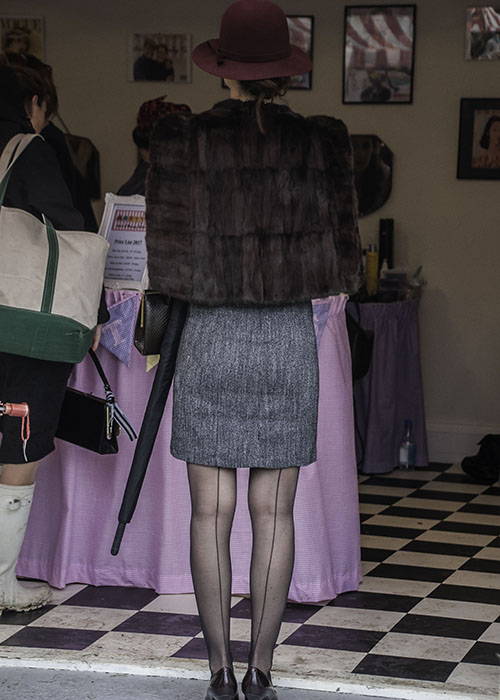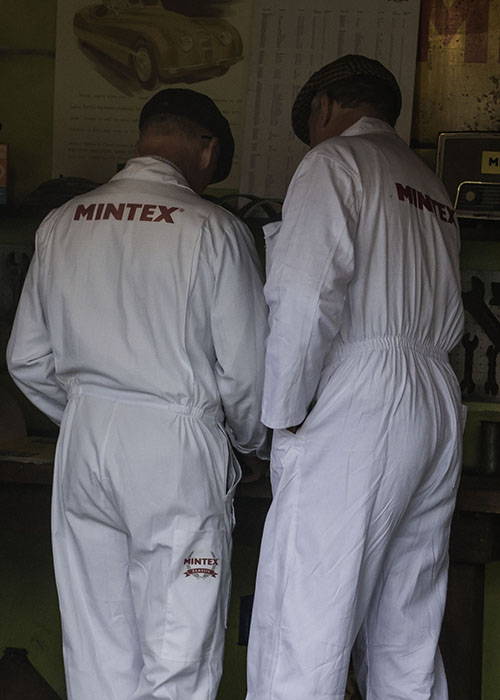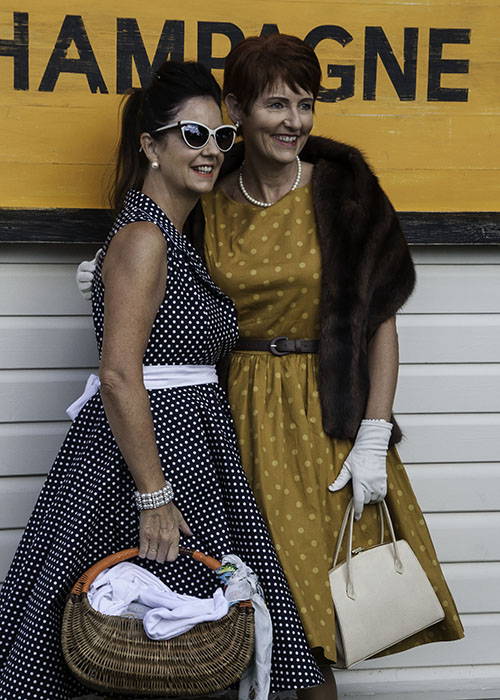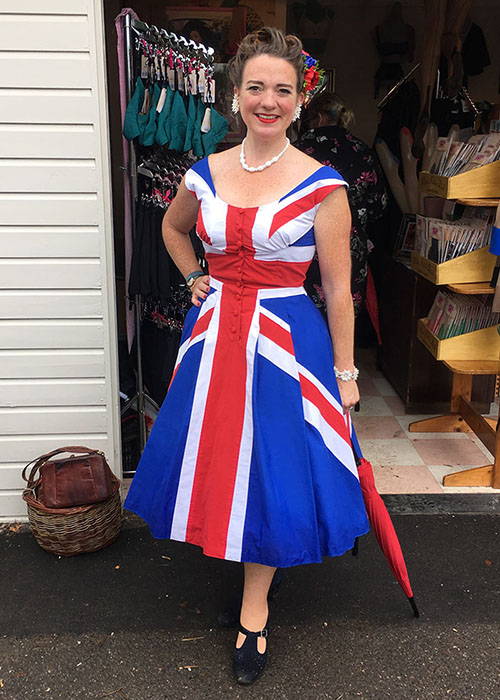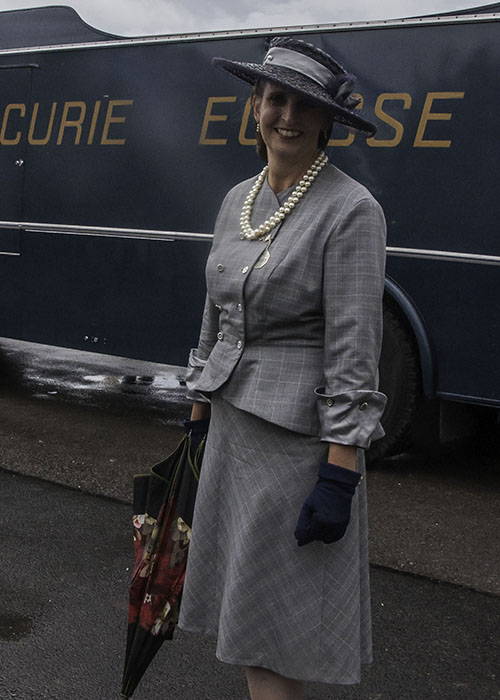 All photos by Kelly Rumble
---
Our Goodwood Revival Picks